Welcome To The Halloween-Master's Website.
New for 2009 was a female Vampire prop we named Vamparilla. She was lots of fun to make and she got lots of great comments on Halloween Night. The best thing we liked about her was how quick and easy she was to put together!
Not being much of a sculptor we buy foam-filled latex heads or Halloween masks and stuff them ourselves. That is usually where our monster props start their creation. And for this creature of the night we found a great foamed filled vampire head and some standard hands.
Before we go any further , we'd just want to say that we have found our all time favorite material to make body shapes out of! And that is… 6 inch thick foam mattresses! We will be keeping a creepy eye out for these at goodwill stores and garage sales from now on!
Using a long serrated loaf knife we can cut and shape an excellent shoulder & torso body in no time.
The next thing we did, using extreme care, (Beware) was to make an incisions with the knife in the "armpits", the "neck" and Halloween home haunt prop building Vamparilla female vampire a Halloween prop for home hauntingin between the "should blades". Into these slits we slid and joined together the shoulder and neck bones which was ¾ inch white PVC pipe.
Next another incision was made to the bottom of the neck of the Vampire latex head and it was positioned on protruding neck bone. Our Lady Vampire prop was coming together
One thing that was going to be a problem was the fact that the paint job of the hands did not match the face. So all we did to solve this was to lightly spray paint the hands white and then dust on a little bit of blue, because we didn't have any purple that day.
Beside as any home haunter worth their hemlock knows – low light is our friend! Later we painted the nails with black nail polish which gave them the perfect Halloween finishing touch.
(More)
Halloween is just around the corner, and competition for the best haunted house is stiff. Those forking out for pre-made decorations often find the scariest part of Halloween is the bill, so a do-it-yourself approach is one way to get great results for a fraction of the cost. >From large-scale projects to quick and easy decorations, anyone can get creative for a spooky holiday this autumn.
Eerie Lighting
When setting the scene for trick-or-treaters or a Halloween-themed party, the quickest way to make a big impact is with lighting.
After dark, lighting will draw attention to your house as a Halloween hotspot – and it needn't cost the earth. Christmas lights can be easily transformed to give a ghostly glow to any outdoor area. Freestanding Christmas lights can be covered with a coloured cloth to cast an unnatural light across your front porch or garden – but be sure to use porous materials or allow space to prevent overheating. Work Christmas fairy lights around the space, draping them over tree branches with scraps of old material or fake cobwebs. The key to a truly terrifying scene is not to over-light the area. Keep lighting moderately dim for a more mysterious ambience.
Matching Your Theme
If you're hosting a themed Halloween party, you'll want decorations to match. Welcome your guests to a vampire fancy dress party with tombstones on your front lawn, made from recycled cardboard or polystyrene (which can be cut into for a 3D effect). Cover them with spray paint and ivy for a worn look.
Torn body parts and other gruesome decorations may not be ideal for a children's party, but hanging bats can be made by recycling egg boxes or simply cut from black sheets of card. Making hanging decorations allows children to get involved in the preparations. A chest of old beads and chocolate coins works well for a pirate-themed get-together, and cursed Egyptian mummies are easily built with toilet paper. For more Halloween theme ideas visit Escapade.co.uk or Morphsuits.com
The Classic Pumpkin
Nothing says Halloween quite like the humble pumpkin. Carving vegetables for Halloween is a centuries-old tradition, and the North American pumpkin, popular for its availability and comparatively large size, is now the standard vegetable of choice for carving on Halloween. Making Jack o'lanterns is a fun activity for young children (though they should obviously be supervised and not put in charge of any knives). Involve them by asking them to draw the scary face on the pumpkin, which you then cut out.
If indoors, make sure surfaces are protected with plenty of newspaper. Cut a circle around the stalk of the pumpkin, keeping the knife pointed towards the core (this will ensure that the lid stays in place).
Using a spoon, scoop out the seeds and flesh until the pumpkin is hollow. The seeds can be toasted and eaten, while the flesh can be used in a host of recipes.
Now's your chance to get creative. Sketch your design on the pumpkin first and then carefully cut it out. Usually this design is a menacing or grotesque face, but the possibilities are almost limitless. Bear in mind that the more you cut away the more fragile the pumpkin becomes. If art isn't your forte, there are a number of designs online that you can trace or use as stencils.
Once carved, pumpkins usually only last for a couple of days before decaying. Coating the cut edges with petroleum jelly, storing the pumpkin in the fridge or soaking it in a bleach-water solution means it'll last longer.
Place a small candle in the base of the pumpkin to light up the cut-out design at night. Try multiple jack-o'lanterns and experiment with different themes and images to make your decorations stand out from the crowd.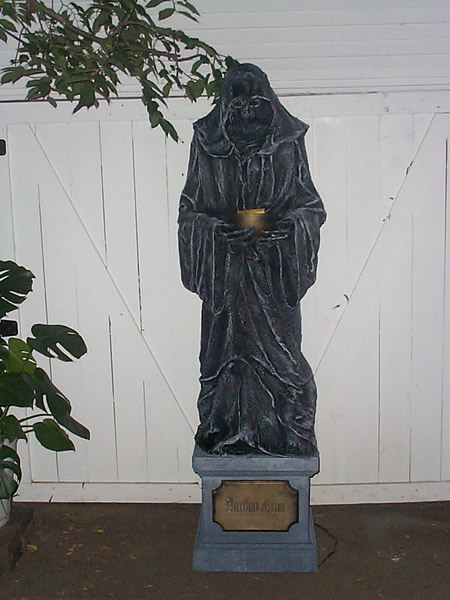 Recently I was at a local cemetery looking for tombstone ideas and came across a statue of an angel. It gave me an ideas for a reaper stone. I thought that it would be cool to have the reaper looking down at a Faux Flame light that it was holding. I had never worked with monster mud before but now that the project is complete I am sure I will make many more. I wish that my camera could take night pictures so that I could post them here too. The fake flame really sets off the reaper in the dark.
The base is a simple wooden box made of 2″by 2″ wood for the uprights. I used 2″by 2″s on the top and 2″by 3″s on the bottom. It measures 18″ square. The sides and top were covered in 1/4 inch plywood and its held together by wood screws. (More)
Stir yourself up some culinary magic by building a human rotisserie!
Parts:
One rubber skeleton
one metal shower curtain rod
6 lengths of pressure treated 1"X1" deck spindles
2 1/2" U-brackets
one 10" length 9/16" all-thread rod, nuts and washers
Tools
a hand saw
a screw gun and 2" screws
one can of Great Stuff spray foam
2 cans of spray paint (black and red primer)
12" wire zip ties
Step one: prepping the main course
I decided that a half skeleton was scarier than one with legs so I tore them off and inserted the shower curtain bar (spray painted black) through the pelvis and rib cage and secured the "meal" to the bar with several zip ties and then with 1" screws to keep the victim from turning on the shaft. I added "meat" by spraying the Great Stuff foam onto a patch of grass, letting dry and spray painting black. I was very pleased with the result of the bubbling mass. Once the foam had dried, I stuffed the upper torso with it (fig. 1). The arms were zip-tied to the bar in a convincing manner then tied with some old rope. I used the end of an old plastic pitch fork (fig. 4) for added skewering power and painted it to match…..
(More)